Best Time to Fish In Cabo San Lucas, Mexico
BEST TIME TO FISH IN CABO SAN LUCAS
Cabo San Lucas, Mexico is known for world class fishing with a variety of species from Black Marlin to Rooster Fish. The Waters around Cabo are rich with some of the best inshore and offshore fish that are favorites with avid anglers and casual sport fishing fans alike. Here is a month by month review of what kind of fish you can expect to catch and the best time of year to fish in Cabo San Lucas
Fishing in Cabo San Lucas in January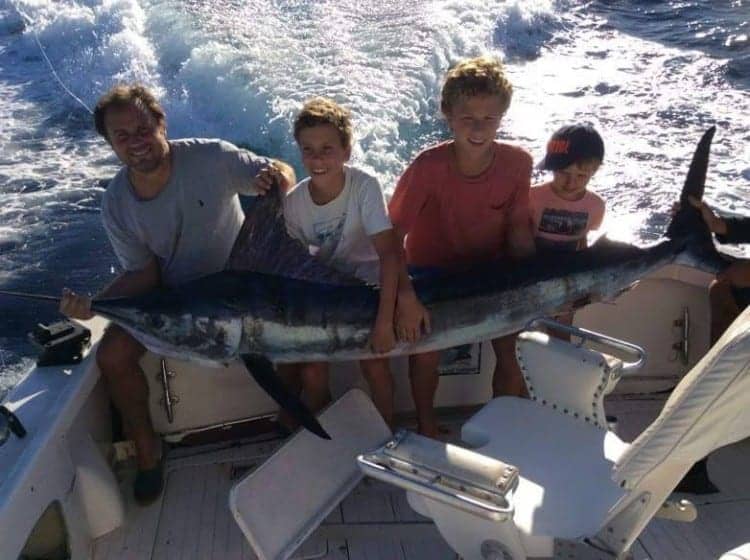 January provides anglers with some of the best weather conditions all year. With average temperatures of 74 degrees and humidity at 68% conditions are ideal for a day on the water. With an average of only .20 inches of rain, the month is typically dry. In January, the waters in the Pacific Ocean produce a great Striped Marlin bite which is the primary catch. We also see a strong Dorado bite with schools of this aggressive fish found consistently. The Yellow Fin Tuna bite can be found offshore at the 20-25 mile mark and east into the Sea of Cortez. Inshore, we see a good Rooster Fish bite and other species like Pompano, Spanish Mackerel, Trigger fish and others.
Best 2020 Cabo Fishing Rates
$280.00 Up to 3 Anglers!!!
February is a month where we see some excellent whether with some occasional rain storms in the area. Average temperatures range from 75 to 78 degrees with humidity at 65%. Cabo averages 1.10 inches of rain in February with most coming in concentrated storms usually lasting a couple of days. February is known for ocassional dips on water temperature from south flowing cold water currents which slows some fish down and brings others into our grounds. The primary catch is Striped Marlin with good numbers in the Pacific from the Light House to the Finger Banks. We also typically see a good Yellow Fin Tuna bite, although the smaller variety of 12 to 25 pounds are most common. We also begin to see a strong bottom bite with Sea Bass, Snapper, Grouper and others starting to heat up. Inshore we see awesome conditions with lots of variety from Rooster Fish, Pompano, Jacks, Trigger Fish and more.
Best time to fish in Cabo San Lucas, February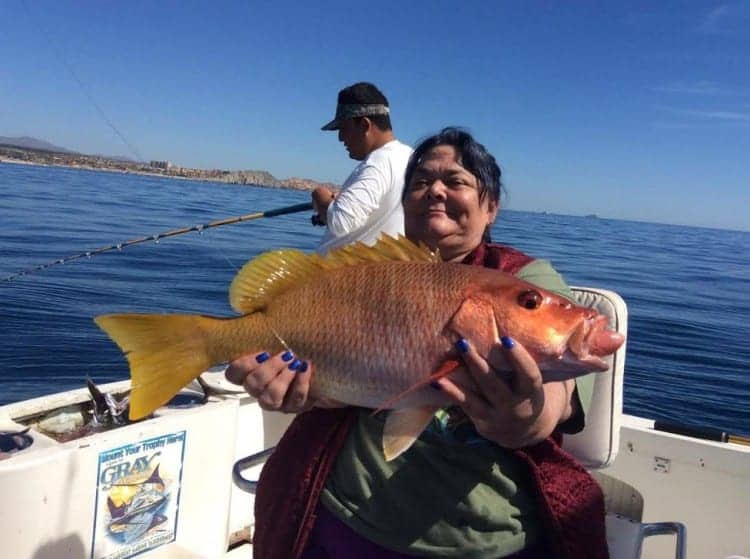 Fishing in Cabo San Lucas in March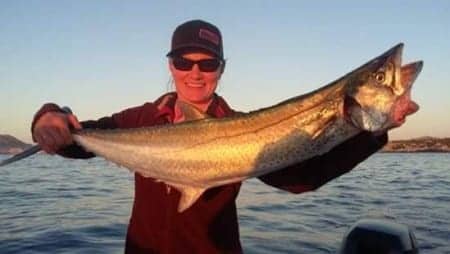 March brings us Spring Break and sometimes a break from Bill Fish. With average temperatures near 80 degrees and humidity at 68% the month produces an average of 0.00 inches of rain, so conditions are ideal. We sometimes battle winds in March and cold water pouring into our grounds from the north. With all of that said we still see some good fishing. The Marlin bite typically slows a bit, but is made up for with a very strong bottom bite, with large Sea Bass, Snapper, Cabrilla, Grouper and others leading the charge. By the end of the month we see an increase in Striped Marlin action as waters warm. Yellow Fin Tuna are seen early in the month, but drop off quickly towards the middle of March. Inshore fishing brings lots of great action as we see the Spanish Mackerel, Yellow Tail and Amber Jacks show up. The Yellow Tail become more plentiful from mid to the end of the month. We still see Rooster Fish, Trigger Fish and others as well.
What to expect on a Cabo Fishing Charter
April is a great month to fish in Cabo San Lucas. The average temperature heats up to the mid 80's with lower humidity at 60%. There is virtually no rain in April with a 0.00 inches average in rainfall. Offshore fishing produces a strong Striped Marlin bite and a very good Dorado bite typically. It is not uncommon for us to see multiple Marlin landed on day trips in April and nice Dorado hauls. Inshore the action is centered around Yellow Tail, Spanish Mackerel, Skip Jack, smaller Dorado and the occasional Rooster Fish. If you are an action angler, April is a good month for bending rods from the Pacific to the Gordo Banks.
Fishing in Cabo San Lucas in April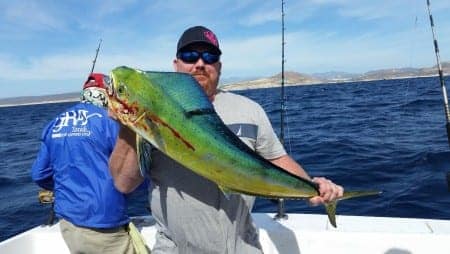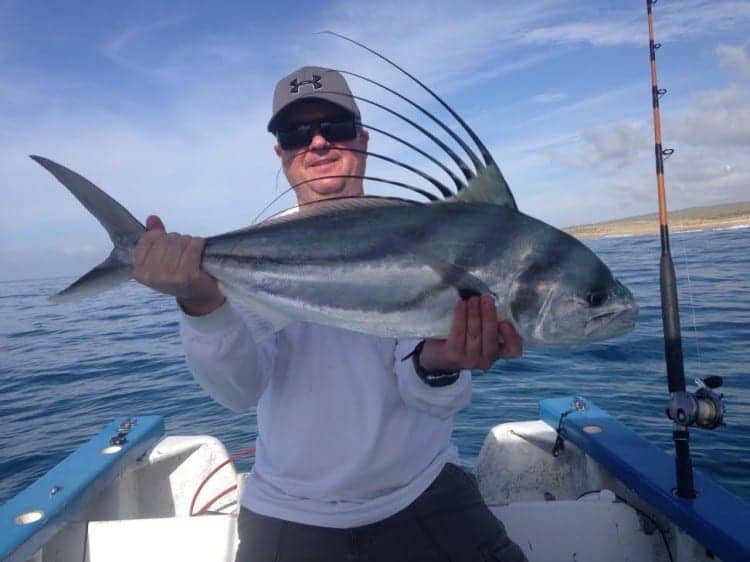 Fishing in Cabo San Lucas in May
May is for Marlin in Cabo San Lucas with a very good Striped Marlin bite. The weather really heats up with an average of 89 degrees and humidity in the low 60's, bring your sun block! As the outside temps heat up so does the water bringing in typically very good Marlin action. We also see some of the better Dorado landed during May with bigger fish hitting the decks. Inshore, May kicks off the Rooster Fish season with more number being landed inshore.
June produces a great mixed bag of fish in Cabo San Lucas, Mexico. If you look at the fishing calender it will not show anything really exciting, but don't let that fool you! June is very hot here in Cabo with average day time temps at 94 degrees and humidity at 65%. These warmer temps also heat up the waters and June produces some great fishing action. The Leader of the pack is Striped Marlin with a few surpise catches like big Tuna, Blue Marlin and nice Wahoo as well. Inshore the Rooster Fish dominate with Jacks, Pompano, Snapper and Grouper also on the menu. June is a popular month with vacationers so be sure to book early amigos!
Fishing in Cabo San Lucas in June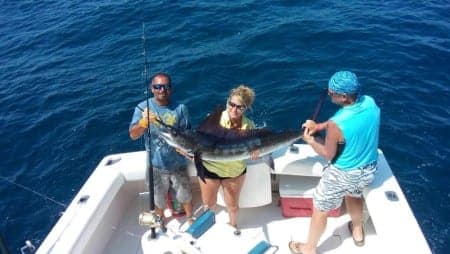 ALL INCLUSIVE CHARTERS AVAILABLE
Fishing Licenses, Lunch, Drinks and Fillet Included
Fishing in Cabo San Lucas in July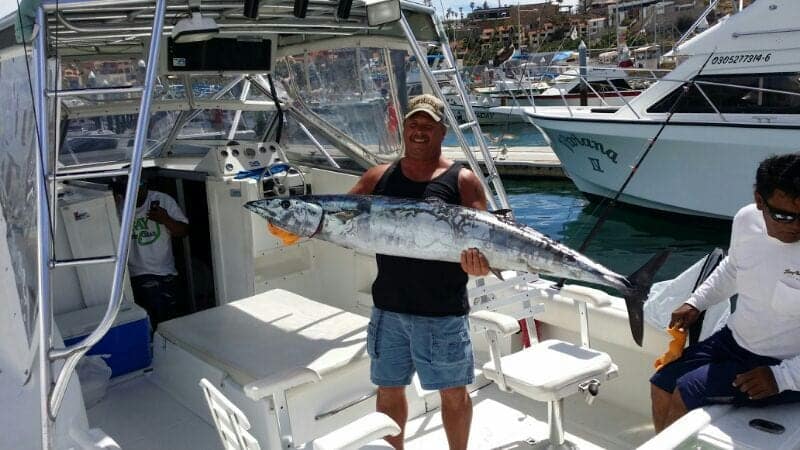 July es muy caliente (Very Hot) here in Cabo….fishing is also HOT! July brings temperatures in the 95 to 100+ degree range in Cabo San Lucas with humidity approaching 70%. For those who like it hot, the waters provide lots of great deep sea fishing action. July is the Best time to bill fish in cabo san lucas with a variety of bill fish including Striped Marlin, Sail Fish and the ocassional Blue Marlin as well. We also see some very nice Tuna action in the San Jaime banks to the Gordo Banks in the Sea of Cortez. July also produces a very nice Wahoo bite as these prized pelagic fish become aggressive. Inshore, its all about Rooster Fish, big Rooster Fish with many in the 40 to 50 pound class seen here. If you can stand the heat, book a trip and lets get after it!
August in Cabo San Lucas really kicks off big fish season. It is very hot here in August with temperatures in the mid 90's on average but humidity at 70%+ makes it feel hotter. If you are the kind that like your beer cold and your days hot this is the best time to fish in Cabo San Lucas for you! Fishing in August in awesome! We start to see a great Sail Fish bite and bigger Blue and Black Marlin with 300 pound+ fish in our day range. August also brings nice Yellow Fin Tuna in the Sea of Cortez and also along the 25 mile mark in the Pacific. Inshore, the Roosters, Dorado and Wahoo will keep you busy. If you are a big game angler, book a trip in August and lets go after the big boys. Just make sure to check the whether forecasts as August also brings tropical weather.
Best time to Fish in Cabo San Lucas, August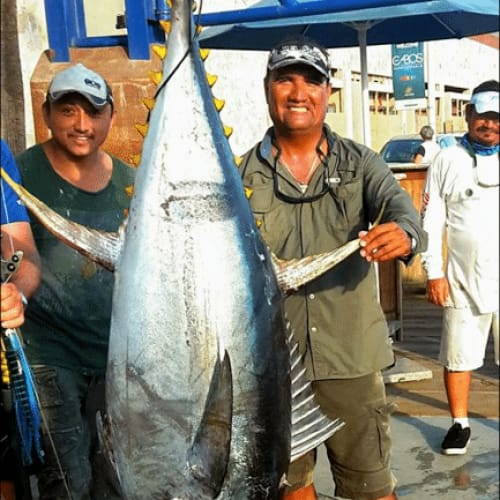 Fishing in Cabo San Lucas in September
September is considered by many one of the best months all year for fishing in Cabo San Lucas. The weather remains very hot with average temps in the mid 90's and humidity hovering near 70%. The warm weather brings warm waters and big fish into our grounds in September. We see an increase in large Yellow Fin Tuna along the San Jaime Bank in the Pacific and the Outer Gordo Banks in the Sea of Cortez. We also see a nice Black and Blue Marlin bite with 300 pound+ fish more common. Sail Fish, Wahoo, Dorado round out the offshore action in September. Inshore start to slow down a bit with pangas looking for Sail Fish and Dorado and the occasional Rooster. Make sure to check weather forecasts as September does produce tropical storms amigos.
Rates Start at $280.00 Up to 3 Anglers!
22 Ft Up To 70Ft Boats Available
I think most people would agree that October is typically the best month all year for fishing in Cabo San Lucas. The weather cools off a bit with temps in the high 80's to low 90's humidity in the high 60's, but most importantly, water temps are ideal for big fish. October brings most of the major fishing tournaments including the Bisbee's Black and Blue, the multi-million dollar Marlin tourney.  The main prize this time of year are the 300 pound+ Black and Blue Marlin, the 300 pound+ Yellow Fin Tuna and the large number of Striped Marlin and Dorado running around. Inshore is mainly Dorado, Wahoo, Sail Fish and bottom fish.  Many people come down for the big fish action and tournaments, it is our busiest time all year and you should consider booking a trip well in advance (60 to 90 days) especially during tournament days, every year we turn folks away because we are fully booked.
Fishing in Cabo San Lucas in October
Fishing in Cabo San Lucas in November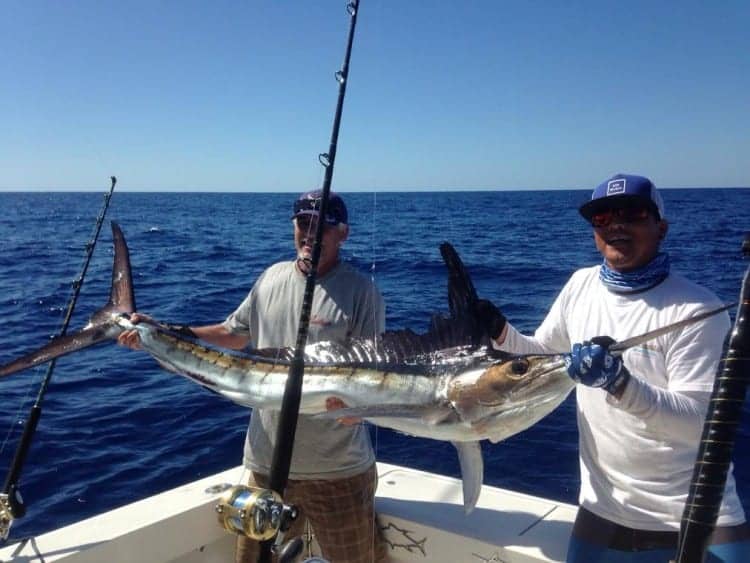 November brings us some awesome fishing conditions. We see a cool down in weather with average temps dropping to 83 degrees and humidity dropping way down to the high 50's. Fishing is great with tons of Dorado, Sail Fish, Striped Marlin and Tuna offshore at the 25 mile mark in the Pacific and 1000 fathom line in the Sea of Cortez. There is a wide variety of fish available including a good Wahoo bite and Mako Shark fishing. Inshore fishing is mainly Dorado, Sail Fish and Spanish Mackerel. The hugely popular WON Tuna Jackpot Tournament is in early November, so be sure to check your dates and book well in advance for November. This is the largest tournament all year as far as number of boats participating, and we often sell out.
Fishing in Cabo San Lucas in December
Amigos, if you like great weather and great fishing December is the month to come visit Cabo San Lucas, Mexico. With average daytime temps in the mid to high 70's and humidity of 65%, December is the best weather all year here. Fishing brings us an awesome mix of fish with the main catch being Striped Marlin followed closely by Dorado, Wahoo and a good Yellow Fin Tuna bite. Inshore fishing will produce smaller Striped Marlin and Sail Fish as fish move in closer to shore to chase bait. December is great for landing multiple fish in a day from Dorado in the morning to Marlin in the afternoon. Come get out of the cold and have a blast!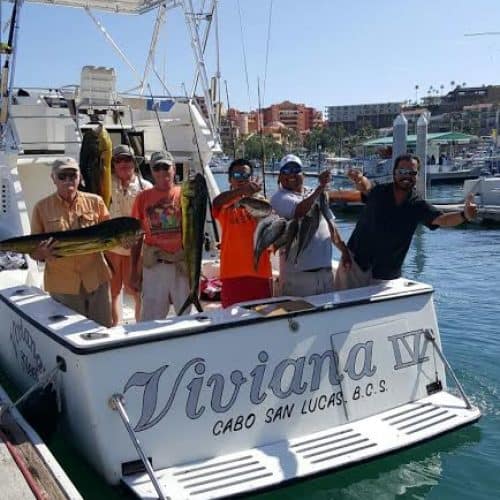 | Best month for | |
| --- | --- |
| | December, January, February |
| | August, September, October |
| | August, September, October |
| | |
| | |
| | September, October, November |
| | |
| | |
| | |
| | |
Low Rates - $280.00 to Fish Cabo