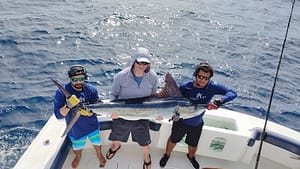 Hola fellow anglers and adventure-seekers! I'm Cabo Greg, the proud owner of Lands End Charters, and I'm here to divulge a little secret with you – there's no place like Cabo San Lucas if you're aiming to reel in the king of the sea, the majestic marlin. Allow me to guide you on this journey, where I draw from my rich reservoir of personal experiences, and illustrate why booking a fishing charter in Cabo San Lucas is an opportunity you cannot afford to miss.
Imagine being just a 12-year-old kid, braving the rough seas with my father and uncles on a small 26ft fishing boat, amidst the roar of the tempestuous waves of Cabo. Despite the adverse weather and relentless waves, the sheer exhilaration of holding that fishing rod, sensing the raw power of a marlin at the other end, left an everlasting mark on me. Indeed, it kindled a lifelong passion that beckoned me to share the thrill, the adventure, and the sheer joy of marlin fishing in the azure waters of Cabo San Lucas with enthusiasts like you.
The Unmatched Thrill of Marlin Fishing in Cabo
Marlin: The Crown Jewel of the Ocean
In the captivating world of angling, the marlin stands as the crown jewel, an entity that embodies the vibrant spirit of the ocean with its grace, power, and formidable presence. Notably, Cabo San Lucas has earned a global reputation as the marlin capital of the world, providing a haven for these magnificent creatures in its rich and bountiful waters. Here, not only can you find the primary catch of Striped Marlin, but you're also in for a treat with the chance to fish for the true behemoths, the Black and Blue Marlin, which can tip the scales at over 1000 pounds.
Throughout the years, I have been fortunate enough to witness many exhilarating marlin catches in these waters. Each encounter is a thrilling chapter that attests to the unique excitement that marlin fishing in Cabo promises. Right from that electrifying moment you feel the first tug on the line, to the ultimate catch, it's an adrenaline adventure that is unparalleled.
Tips and Tricks for Marlin Fishing from Cabo Greg
Over the years, I have amassed a wealth of knowledge that can amplify your marlin fishing adventure. Notably, the optimal period to venture out for marlin fishing in Cabo spans from June to October when the waters are bustling with these majestic creatures.
To bolster your chances, it's imperative to be equipped with the right gear; a robust fishing rod, the appropriate bait, and a buoyant spirit are your trustworthy companions on this expedition. Furthermore, embracing patience can be your ally; after all, marlin fishing embodies the joy of the journey as much as the final catch.
Here are a few exclusive tips to elevate your marlin fishing venture:
Leverage Live Bait: Marlin have a particular affinity for live bait, predominantly mackerel and caballitos. Utilizing live bait can drastically augment your chances of securing a sizable catch. Typically, once a marlin is spotted in the spread, live casting is employed to facilitate that perfect bite and hook set.
Bird Watching: Interestingly, birds can be your guide to fruitful fishing spots. Be vigilant for frigate birds, as they are frequently spotted above areas abundant with marlin.
Master Your Lure Presentation: A well-presented lure is a marlin magnet. Our proficient crews dedicate time to perfecting the lure presentation to entice more bites. You'll observe a meticulous arrangement of the spread, with some lures positioned short or close to the boat, while others are set farther back. This strategy, coupled with the deployment of outriggers to lateral sides of the boat, cultivates an enticing spread that can have 4 to 6 lines at once for an alluring presentation.
A Commitment to Conservation: 100% Catch and Release on All Billfish
At Lands End Charters, we harbor a deep love for the sea and its awe-inspiring inhabitants. Consequently, we staunchly adhere to a 100% catch and release policy for all billfish, a practice that guarantees the preservation of the marlin population and the vibrant marine biodiversity of Cabo's waters for future generations to revel in.
I vividly recall the first time I released a marlin back into the wild depths of the ocean. This act transcended mere conservation, embodying a profound respect and connection to Cabo's vibrant marine life. Furthermore, this catch and release practice instills a gratifying sense of participation in the circle of life, fostering a symbiotic relationship with nature's wonders.
Why Choose Lands End Charters
An Unrivaled Fleet at Your Service
At Lands End Charters, we take immense pride in offering a fleet that stands unrivaled in service and dedication to authentic deep-sea fishing experiences. Our adept crews have mastered the rich fishing grounds of Cabo, ever ready to guide you to zones where marlins are in abundance.
To enhance your experience, some of our vessels boast modern amenities, ensuring your fishing venture is nothing short of luxurious. Moreover, marlin fishing transcends the catch; it embodies the joy of the voyage, the opulence, the camaraderie, and the breathtaking panoramas that Cabo San Lucas graciously presents. From onboard chefs to attentive crews, we are at your service to craft a luxurious fishing escapade that you'll cherish.
Experience and Expertise That Makes a Difference
Our seasoned crew members stand as more than adept navigators of these pristine waters; they are fervent anglers sharing your zeal for the sport. Their insights and tips can be a treasure trove of knowledge, whether you are a seasoned veteran or embarking on your first marlin fishing adventure.
Check out our fleet of amazing boats here.