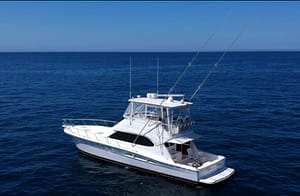 Hola, fishing enthusiasts and luxury seekers! Today, I bring to you an adventure that seamlessly blends the thrill of fishing with the luxury you deserve. Allow me to guide you on why your next fishing trip should be with Lands End Charters, where we redefine luxury and adventure in Cabo San Lucas.
The Lands End Charters Difference
Have you ever imagined catching a massive Marlin or a vibrant Dorado from the deck of a luxurious sportfishing boat? At Lands End Charters, we turn this dream into reality. Our majestic fleet comprises luxury boats ranging from 45 to 90 feet, promising not just a fishing expedition, but an experience that stays with you forever.
Our expert crews are not just skilled at navigating the rich fishing grounds of Cabo; they are avid anglers themselves, sharing your passion for the sport. Their knowledge and guidance can take your fishing adventure to the next level.
Aboard the Luxury Fleet
Step aboard and let the magic unfold! Our boats are equipped with modern amenities that guarantee a lavish experience. Picture this: you are surrounded by the amazing waters of Cabo, reeling in a grand catch, while our on-board chef prepares a gourmet meal for you with the freshest ingredients. Yes, private chef services are available to cater to your culinary desires, making your trip a feast for all senses.
As you cruise on our luxurious vessels, you'd notice the meticulous attention to detail that sets us apart. The expansive decks, sophisticated interiors, and state-of-the-art fishing gear ensure you have a fruitful and comfortable expedition.
The Cabo San Lucas Advantage
Cabo San Lucas, renowned for its rich marine biodiversity, offers a fishing ground like no other. The convergence of the Pacific Ocean and the Sea of Cortez creates a unique marine ecosystem that houses an array of majestic sea creatures.
The favorable weather conditions and abundant marine life make Cabo an angler's paradise, especially during the peak seasons when the waters are teeming with prized catches like Marlin, Tuna, and Dorado. To make the most of your trip, we guide you to the best spots where you can find the catch you dream of.
Tips for a Luxury Fishing Charter Experience
To elevate your luxury fishing charter experience, we have some exclusive tips for you:
Booking in Advance: Secure the best deals by booking your charter well in advance.
Personalized Packages: At Lands End Charters, we offer customizable packages to suit your needs.
Preparation is Key: Pack smart. Bring along sun protection and comfortable clothing to enjoy your time under the Cabo sun.
On-board Etiquette: Familiarize yourself with the etiquettes of luxury fishing to ensure a seamless experience.
Client Testimonials
Our clients often become part of our extended family, returning to re-experience the luxury we offer. Here's what some of them have to say: Our 5 star award winning service and reviews can be found here.
Booking Your Luxury Charter
Ready to embark on this exclusive adventure? Booking your luxury charter with Lands End is a breeze. We offer a variety of packages that can be tailored to meet your specific preferences. From selecting the right vessel to customizing your dining menu, we ensure every aspect of your trip is to your liking. Contact us here.
Your journey of luxury and exhilaration awaits at Cabo San Lucas with Lands End Charters. Experience fishing like never before, with a touch of class and luxury that is unmatched. We invite you to come and discover the bliss of fishing in Cabo, where every trip is a celebration of the sea and a testament to luxury.
So, are you ready to set sail on a luxury fishing charter with Lands End? Contact us now and let's craft the fishing adventure of your dreams.
Contact Information
To know more or to book your charter, feel free to reach us at:
800-281-5778 / 624-121-0536
jenny@landsendcharters.com