Hola Amigos!
Get ready to unlock the well-kept secrets of successful fishing charters in the captivating waters of Cabo San Lucas. At Lands End Charters, we pride ourselves in offering you the most enriching and fruitful fishing expeditions. We're here to spill the beans on how you can make the most of your Cabo fishing adventure. So grab your notepad, because class is in session!
Gear Up for Your Adventure
Essential Packing Tips
A successful fishing expedition starts with packing the right gear. Ensure to include sun protection items such as wide-brim hats and sunglasses. Also, to enjoy your outing to the fullest, bring along snacks and drinks to keep your energy up throughout the day. To capture the precious moments, don't forget your camera!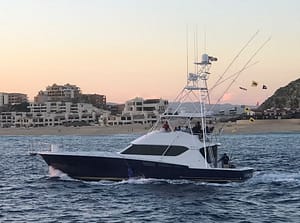 Tips for Choosing the Perfect Fishing Spot in Cabo
The Right Season
The first secret to a successful fishing trip is choosing the right season. The months between June and December are known to be the most fruitful periods for catching marlin, Cabo's prized fish. However, if you're keen on catching yellowfin tuna, consider planning your trip between July and November. You can watch a video on the best months to fish cabo and a look at what to expect here:
Hotspots You Must Visit
In Cabo, certain spots are famed for their rich marine life. Don't miss the Gordo Banks, a known hotspot where the fish are plenty, and the chances of making a great catch are high. Another less-known but productive area is the Golden Gate Bank, especially fruitful during the winter months. During the later months of the year, San Jaime Bank also produces some great Tuna and Marlin bites.
Tips and Techniques to Boost Your Catch
Bait and Lure Tips
Now, let's get into the nitty-gritty of fishing. Using live bait is often more effective when you are targeting marlin or sailfish. If you're into lure fishing, mastering the art of lure presentation can give you an upper hand. Pro tip: We occasionally change the speed of the boat to give lures a more natural and erratic action, attracting more bites.
Hook Setting Techniques
When it comes to hooking a fish, the technique is everything. Improve your hook setting skills by practicing the 'strike' technique for billfish or the 'let eat' approach for tuna and dorado.
When targeting Tuna and Dorado, the 'strike' technique is often recommended. This involves a swift and firm setting of the hook as soon as the fish bites, ensuring a secure catch and reducing the chance of the fish escaping. It's a method that requires both alertness and quick reflexes to master, but it's incredibly rewarding when executed perfectly.
On the other hand, the 'let eat' approach is preferred when you're aiming for Billfish. This technique involves letting the fish take the bait and run for a few seconds before you gradually apply pressure to hook the fish. This allows the fish to get a good bite and increases the likelihood of a successful hook set. It's a method that emphasizes patience and precision, giving the fish a moment to truly commit to the bait before you reel in your prize.
Ensuring Safety and Comfort on Board
Getting Acquainted with Boat Safety
Before setting off, acquaint yourself with the boat's safety procedures and equipment. Keeping a calm demeanor and following the captain's instructions can go a long way in ensuring a safe and enjoyable trip. All of the fishing boats in the Lands End Charters fleet undergoe a yearly safety review and are all equipped with all of the necessary safety equipment required by the Cabo San Lucas Port Captain.
Staying Comfortable During the Trip
While on board, wearing appropriate footwear can prevent slips and falls. Also, it's advisable to take medication beforehand if you are prone to seasickness.
Navigating the deck of a fishing boat can sometimes be slippery due to water and fish remnants, hence wearing appropriate footwear with good grip is crucial to prevent any unexpected slips and falls. Moreover, it ensures that you can move comfortably and swiftly when you've got a big fish on the line.
Additionally, the swaying of the boat on the waves, especially for extended periods, can cause seasickness. If you are prone to seasickness, taking medication beforehand can make a significant difference in your experience. You might also consider wearing seasickness bands or consuming ginger, which are natural remedies that have proven effective in combating nausea and ensuring an enjoyable adventure at sea.
Beyond Fishing: Enjoying Cabo's Vibrant Marine Life
Whale Watching and Snorkeling
While the primary focus is on fishing, take time to appreciate the vibrant marine life in Cabo. The region offers fantastic opportunities for whale watching and snorkeling, adding a touch of magic to your adventure.
As your Cabo fishing trip comes to a close, you'll realize it's not just about the catch but the enriching experiences and secrets you've uncovered along the way. At Lands End Charters, we invite you to discover the alluring world of Cabo San Lucas fishing charters, where every trip promises new learnings and adventures. Click here to view the best deals on Cabo San Lucas Fishing Charters.