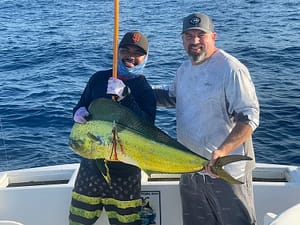 Greetings, fishing enthusiasts and vacation planners! Cabo San Lucas has long been revered as a world-class fishing destination. As someone who is gearing up to experience the thrill of fishing in these rich waters, there are a few insider tips that can enhance your adventure manifold. This guide is designed to help you seize not only the best fish but also the best deals!
The Early Bird Catches the Best Deals
When it comes to fishing in Cabo, the early bird doesn't just catch the worm; it catches the best deals, the best boats, and the expert captains! Booking your fishing charter well in advance is not just a suggestion but a golden rule for a plethora of reasons.
Importance of Booking in Advance
First and foremost, securing your charter early ensures you get the best rates possible. Experienced and reputed captains are in high demand, and their schedules fill up fast, especially during the peak seasons. By planning ahead, you guarantee a spot with the crème de la crème of the fishing world. Moreover, when you book at least 30 days in advance, you can take advantage of the attractive discounts that Lands End Charters has to offer. Remember, a fantastic experience doesn't necessarily have to come with a hefty price tag!
The 30-Day Advance Booking Advantage
To give you a perspective, here's a little anecdote. John, a seasoned traveler, and fishing enthusiast always emphasized the benefits of early booking. During his last trip to Cabo, he managed to secure a charter with one of the most experienced captains in the region, all while enjoying a generous discount, thanks to his foresight in booking 30 days in advance!
The Perils of Last-Minute Booking
While spontaneity has its own charm, when it comes to securing a fishing charter in Cabo, it can backfire considerably. Many years ago, it wasn't uncommon to simply walk around the marina and speak to the captains waiting on their boats for potential customers. Things have certainly changed since then. For one, the boats are now behind locked gates and getting close to the boats and crews is impossible. Also, because of the popularity of the area for sportfishing, many boats are gone during the day and the best crews are almost constantly working, making getting the right crew almost impossible.
The Marina Salespeople
Last-minute bookings often mean you are left dealing with marina salespeople, who might not necessarily have your best interest at heart. Prices can be inflated, and the sales tactics can be aggressive, leaving you with a dent in your wallet and possibly a less than stellar experience. It is not unheard of of people not exactly getting what they pay for and having surprise costs for everything from gate fees to fuel surcharges.
Limited Choices
Furthermore, waiting until you reach Cabo to book your charter often means limited choices. The best boats and captains are likely to be booked, forcing you to compromise on the quality of your experience.
Tips for a Seamless Booking Experience
Booking a fishing charter in Cabo doesn't have to be a stressful experience. Here are a few tips that can help you navigate the process smoothly:
Researching Beforehand
Take the time to do some research before you arrive. Check reviews and testimonials of various charters online. Compare rates and offerings to ensure that you are getting the best value for your money. You can read our reviews and know you're in the right hands since Lands End Charters has won award after award for our service and fishing success. Read our reviews here.
Consulting with Insiders
If possible, seek advice from locals or travelers who have previously visited the region. You can also connect with communities or forums online where you can gain insights and tips from seasoned travelers.
Why Choose Lands End Charters
At Lands End Charters, we are committed to providing our customers with an experience that is nothing short of excellence. Our team is dedicated to ensuring you have the best rates and experiences. Our captains are seasoned experts who are well-acquainted with the waters of Cabo, guaranteeing you a fruitful fishing expedition.
Customer-Centric Approach
But don't just take our word for it. Our numerous positive testimonials speak volumes about the kind of experience we provide. We believe in a customer-centric approach, where your satisfaction is our primary goal.
In conclusion, securing your Cabo San Lucas fishing charter well in advance is more than just a tip; it's an insider secret to guaranteeing a successful and enjoyable experience. So why wait? Make the smart move and book your next fishing adventure with Lands End Charters. Your unforgettable fishing expedition in the pristine waters of Cabo awaits!
Contact Information
Ready to embark on a memorable fishing adventure? Get in touch with us and initiate your booking process today.
800-281-5778
greg@landsendcharters.com